The tribe expands its 27th Annual Thanksgiving Outreach program to a new record to help address the ongoing struggles facing families, veterans and seniors in need this holiday season.

MORONGO INDIAN RESERVATION – Recognizing the growing number of people in need, the Morongo Band of Mission Indians today began distributing a record-high 10,000 turkeys to provide more than 220,000 Thanksgiving dinners to children, families, seniors and veterans across Southern California.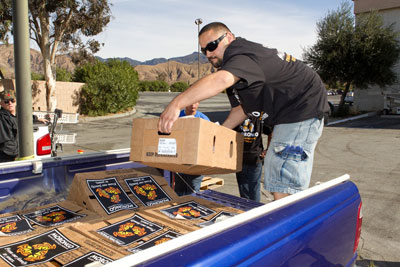 The 10,000-turkey donation marks a new record for Morongo's Annual Thanksgiving Outreach program which has provided nearly 70,000 turkeys to those in need over the past 27 years. The program, which has grown steadily over the years, has provided 9,000 turkeys annually for the past several years.

"People of all backgrounds and ages continue to struggle to get by in the face of the very difficult economic conditions that are gripping our region," Morongo Tribal Councilman Tom Linton said. "At Morongo, we have always strived to help others, even as our own tribe struggled to survive. Giving is a part of who we are, and we feel fortunate to be able to help others in need."

Today and again on Thursday, more than 100 tribal members and volunteers, including local school children, will help distribute truckloads of frozen turkeys to 113 non-profit organizations from across Southern California including Cabazon, Banning, Riverside, San Bernardino, Redlands, Temecula, Pasadena and Los Angeles.

"These turkeys will help feed hundreds in our community," said Pastor Raymond E. Smith of the Abundant Life Christian Fellowship in Desert Hot Springs. "In this difficult economy, the need for such charity keeps growing, and we are very grateful to Morongo for striving to meet those needs."

Pastor Victor Archuleta at Victory Outreach in Banning said his group will use the 125 turkeys it is receiving from Morongo to put on a holiday dinner for the homeless and to aid the needy.

Morongo Provides Record 10,000 Turkeys to Feed Those in Need

"Our ministry really reaches out to families that are struggling," said Archuleta. "It's tremendous to see what Morongo is doing. They are meeting the needs of a lot of people in the community. Without Morongo, a lot of people would be going without this holiday."

Non-profit groups receiving turkeys range from the Los Angeles Mission to area food pantries like Carol's Kitchen, groups supporting homeless and struggling families, numerous chapters of the Veterans of Foreign Wars and dozens of churches and ministries.

"With Morongo's generosity, our organization will be able to provide Thanksgiving dinners – with all the fixings – to the families of more than 100 deployed Marines based out of Camp Pendleton, and we couldn't do it without the tribe's assistance," said Steve Johnson of the Western Eagle Foundation, a Temecula food bank.

The groups will use the turkeys donated by Morongo to prepare an estimated 220,000 Thanksgiving Day meals for seniors, veterans and families who wouldn't otherwise get to enjoy a holiday dinner this Thanksgiving season.

Herb Smith, president of The Los Angeles Mission, as he expressed his thanks for the 300 turkeys his organization received from Morongo this year.

"Sharing is a tradition that epitomizes the best of cultural backgrounds. Every year our friends from the Morongo Band of Mission Indians have blessed all those in need with an abundance of turkeys, said Smith, whose organization serves hundreds of poor and homeless men, women and children in the Skid Row area.

"The Los Angeles Mission is honored to partner with Morongo to share food that feeds the body and caring that inspires the soul of our friends and neighbors this Thanksgiving."

Groups submitted applications to the tribe from January through April and were notified in June that they had been selected to receive turkeys in the fall.