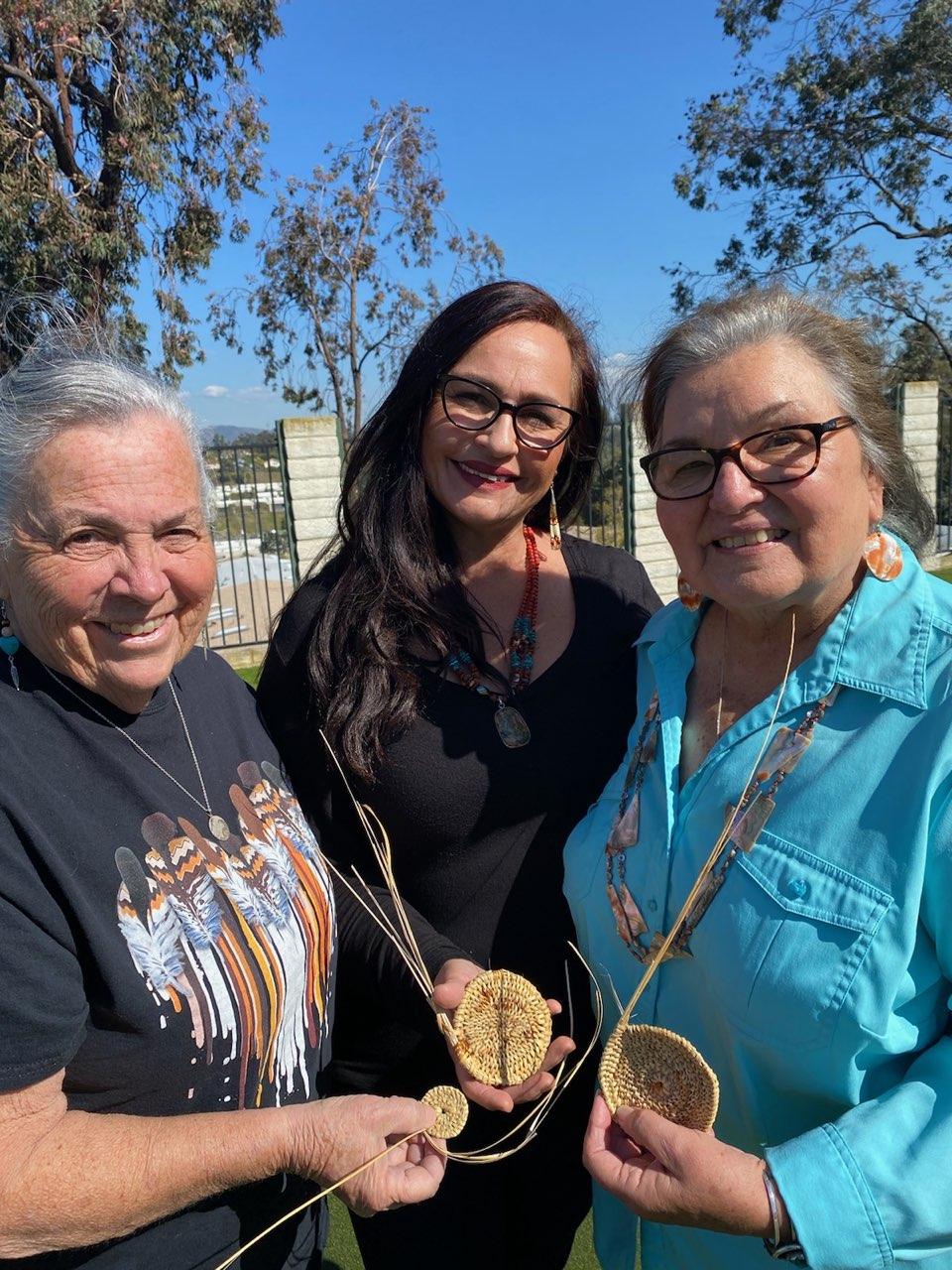 News From the North
By: Linda Kallas
6/8/22
Greetings from North County.This month's article will focus on
Diania Caudell, retired, member of the San Luis Rey Band of Mission
Indians, is a basket weaver/gatherer who is weaving her magic
throughout North County. She is a board member of the California
Indian Basket Weavers Association (CIBA). She is also a member of
Tribal Pesticide Program Council (TPPC) representing CIBA. She speaks
about the dangers of pesticides on traditional weaving materials that
are harmful to the weavers. Diania, assisted by Roberta Estrada and
Raenette Olvera, both are also members of the San Luis Rey Band of
Mission Indians, conduct weaving workshops at various venues. The
ladies continue their practice on the fourth Sunday of the month at
San Luis Rey Mission where college students and other interested
participants are welcome to join the fun.
Diania and Roberta collaborate with Professor Bonnie Bade
from CSUSM teaching Luiseno cultural history and basket weaving.
They are also involved with the De Luz Ecology Center gathering
traditional native plants and passing that knowledge onto others.
Diania is also a docent with the Daley Ranch and for the last
fifteen years has volunteered her time with the Native American
programs for seventh graders of the Escondido School District.
Diania also volunteers her time as a docent at the Santa
Margarita/Las Flores Ranch on Camp Pendleton. She has worked
with many other school districts throughout North County teaching
about the Luiseno language of her tribe, Luiseno history and
basket weaving.
This past April, Diania conducted a basket weaving workshop
with the assistance of Roberta for families at the Literacy
Center in Oceanside which is part of the Oceanside Public
Library. There were over twenty children along with their
parents and the experience was enjoyed by all. Just this past
week, Diania taught a workshop at the Mission San Luis Rey for
forty-six friars and future friars and was assisted by Raenette,
Ellen Sue (Acjachemen) and me. The event was a huge success with
the men and their baskets turned out beautifully. Next week,
Diania will conduct three consecutive workshops for the Art for
Older Adults at the El Corazon Senior Center in Oceanside which
is sponsored by the Oceanside Public Library. Diania and Roberta
recently conducted a private class at Studio ACE for adults and
they will teach another class there during summer camp for
children.
Diania will also teach basket weaving at another summer camp
at the Mission San Luis Rey in July. Diania is an honorary member
of the San Luis Rey Rotary Club and teaches the Luiseno language
once a month to the members. She is a member of the Luiseno
Festival planning committee of the Valley Arts Festival through
Studio ACE. Diania is proud of her Luiseno heritage and enjoys
sharing her culture with others.