Featured
Agua Caliente Band of Cahuilla Indians Achieves a Significant Victory in Securing a Strong Water Future
For decades, water agencies in the Coachella Valley have depleted the underground aquifer and replenished the pristine aquifer water with degraded Colorado River water. Frustrated with these practices, the Agua Caliente Band of Cahuilla Indians filed a lawsuit in 2013 against the water agencies asserting an ownership interest in the water and challenging the water management methods. NARF, along with Kilpatrick Townsend law firm, represented the tribe in its quest to secure its right to water and its role in ensuring a sustainable water future. In 2015, a California federal district court ruled in the tribe's favor that the tribe's federal reserved water rights did include the groundwater under the reservation lands. The water agencies appealed the decision.

This week, the Ninth Circuit Court of Appeals issued an opinion that upheld the district court's 2015 ruling that the tribe "has a reserved right to groundwater underlying its reservation as a result of the purpose for which the reservation was established." This ruling is a significant victory for the tribe and the Coachella Valley, where the tribe and its ancestors have lived since time immemorial. NARF Executive Director John Echohawk stated, "We know that Indian tribes need to be able to count on having safe and reliable water supplies in order to successfully plan for their future generations' ability to live healthy and successful lives, build economies, and continue cultural practices."
Congratulations to the Agua Caliente Band of Cahuilla Indians in securing its right to clean water and sustainable water management!
See the full press release from NARF here.
Communications Specialist Jennifer Kearns Named Information Officer at San Diego Mesa College
| | | |
| --- | --- | --- |
| | CONTACT: | |
Communications Specialist Jennifer Kearns Named Information Officer at San Diego Mesa College
Jennifer Kearns – an award-winning communications professional with nearly two decades of experience in marketing and public relations – is the new Information Officer at San Diego Mesa College.
As Mesa College's chief media and community liaison, Kearns will direct, manage, and plan marketing and public relations efforts for the largest college in the San Diego Community College District, a college which is setting the pace for educational excellence. Last year, Mesa College became the first community college in the state to offer a bachelor's degree program, and it ranks first among the 113 California community colleges in awarding Associate Degrees for Transfer to a four-year college or university.
"We are proud to have Jennifer on our team in promoting the incredible good that we are doing here at Mesa College, from our new baccalaureate program in Health Information Management, to our work in becoming the leading college of Equity and Excellence, to innovative outreach and support for our diverse student body, to the construction boom funded by Propositions S and N that have transformed the look of the campus and made it among the most modern community colleges in the country," Mesa College President Dr. Pamela Luster said.
Kearns most recently served as Director of Communications for former San Diego City Council President Sherri Lightner, whose term in office concluded Dec. 10. There, Kearns was responsible for media relations, events, the District 1 website, and social media, while working closely with the Mayor and other council districts.
She begins her new job on December 15.
"San Diego Mesa College is a phenomenal asset to our region, and I really look forward to promoting the educational opportunities and good works that are happening there on a daily basis," Kearns said.
Kearns is no stranger to the San Diego Community College District, having served for the past 15 years as an Adjunct Professor at San Diego City College, where she manages the Independent Learning Center.
Kearns earned her Bachelor of Arts degree from the University of Southern California and her Master of Science Degree from San Diego State University. She began her marketing career as an account manager for a La Jolla-based marketing and public relations firm, and in 2006 was named Senior Public Information Officer for the City of San Diego's Think Blue program, the city's storm water pollution prevention campaign. That was followed by two years as the San Diego's Strategic Partnerships Manager assisting with the management and development of partnerships and sponsorships for the City, and two years as City Council President Lightner's Director of Communications.
Prior to working in marketing, Kearns served as a Professional Therapist/Counselor with the San Diego Center for the Blind, Vietnam Veterans of San Diego (VVSD), and Mesa Vista Hospital.
Among the largest community colleges in California and the nation, San Diego Mesa College is a fully accredited two-year college serving nearly 25,000 students and offering more than 190 associate degree and certificate programs, and a baccalaureate degree in the field of Health Information Management. With its premiere fine art and music programs, robust language offerings and rigorous math and science curricula, Mesa ranks as San Diego's top transfer institution. The college also serves as an important economic catalyst for the region. As a Title III and Title V eligible institution, Mesa College is committed to the success of all students, including underrepresented students and more than 1,000 veterans and their families. www.sdmesa.edu
Photo: Jennifer Kearns begins her new job as Mesa College's information officer on December 15.
Jack Beresford
Director, Communications and Public Relations
San Diego Community College District
3375 Camino del Rio South, Suite 335
Education by Renee Millard-Chacon
I'm choosing knowledge to be my weapon. Too often our collective narrative is

invisible in the dominate cultures media, history, and education. I now believe it is up

to us to teach there is still power in our words and how we use them with the people
around us. I initially felt my purpose to voice this narrative was in journalism now I am
choosing to become an educator. Education has been viewed as something we only learn
in our youth that adults and people of all races have stopped pursuing real knowledge.

It's the difference of knowing what is the map, and what is the maze. My sense of urgency
increased with the births of my sons' and my husband joining the US Navy to support us.
I'm a Xicana from Denver and I've been blessed by so many that believed in me I returned
back to school currently for a Master's in Education and possible Doctorate.

Education reform and support is vital right now on the national front and it's going to have
to come from us. I do think this is a matter of survival. No balanced culture can exist if we
are not able to think critically of our environment, history, and future generations if we do
not have all perspectives that are impacted, fully represented. Now in the current political
climate I worry knowledge will be the first casualty. I personally feel, it already has been.

I find my son confused when I give him further history on a subject and it conflicts
with
what
was just taught at school. Granted parents should always be active in their children's
education,
but it's the same lessons my parents have had to teach me and I remember
the initial shock and
confusion of, "why was this story not told?" But I'm an Urban Indian
and so is he, this is the world
we live in, and to a certain degree we will always live in two
worlds of understanding. I have to work
with in this system that I have right now,
so I'm choosing education, because my goal is to help the
future generations after me.

I don't know how hard of expressing our narrative in education is going to be,
but I'm assuming it is going to last my lifetime.
Indigenous Environmental Network on Army Corps Statement
Indigenous Environmental Network on Army Corps Statement
Cannon Ball, ND - In a letter to the Standing Rock Sioux Tribe, the U.S. Army Corps of Engineers announced they have not made a final decision on whether to grant Dakota Access an easement to drill under the Missouri River.
In response to the Army Corps' statement the Indigenous Environmental Network issued the following statement:
"This statement from the Army Corps of Engineers is not a final victory by any means, but is a positive sign. While construction has been delayed under Corps' land bordering Lake Oahe, Energy Transfer Partners continues to build the Dakota Pipeline elsewhere in Iowa, Illinois and North Dakota.
However, the Indigenous Environmental Network (IEN) remains hopeful and we recognize the Army Corps' support in exercising the right to hold peaceful demonstrations and also urge Water Protectors to remain non-violent. The Army Corps noted, "we fully support the rights of all Americans to assemble and speak freely."
IEN will continue to hold the Obama administration to its commitment to prevent environmental injustice and to recognize the rights of Native Nations and its Indigenous Peoples. Furthermore, we will continue to put pressure on the Army Corps and the Obama Administration to not grant the easement, Section 408, for Dakota Access to cross the Missouri River,
to rescind the permits given under Nationwide Permit 12
or to order a full environmental impact statement.
We are all a part of a prophecy for humanity to reevaluate the sacredness of this earth. That is what this movement is about. Not granting the easement will be a step in the right direction to respect the original peoples of this country and the life cycles of Mother Earth."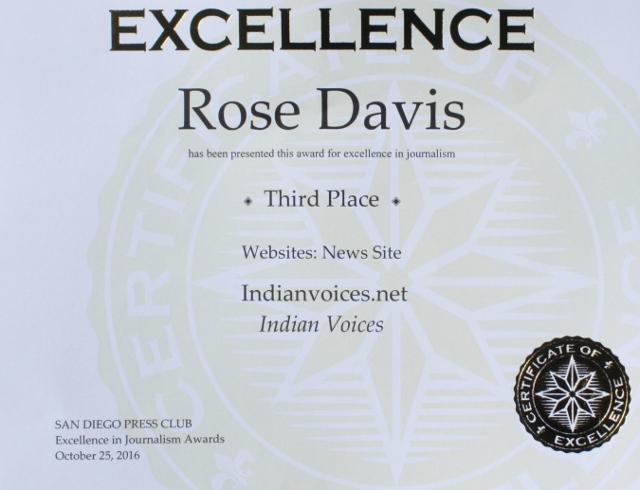 Thank you for the kind words and support from the community for our award from the San Diego Press Club. Our team of dedicated community journalists has long been engaged in shining a light on our indigenous and often overlooked family.
The website component www.indianvoices.net has been invigorated by the attention and patient supervision of our Social Media Administrator Yvonne-Cher Skye who has diligently worked on guiding the website to reflect not only a comprehensive overview of our unique community but to ensure that our intelligence is shared and utilized by all classes of society in order to work in harmony for the greater good of all people. It is through her diligence and hard work that we are able to capture this attention.
We are appreciative to not only the San Diego Press Club but also to all of the other professional Journalism associations devoted to safe guarding our U. S. Constitutional First Amendment Right of Freedom of Speech. Thus preventing us from the fate of all of the broken treaties.
We support the growing independent media community who are creating viable journalistic alternatives to the disinformation created by the corporate-controlled media conglomerates currently manipulating the public psyche.
Thank you for your support as we continue the journey toward a People's Media that reflects Our spirit. - Rose Davis